I have found myself travelling extensively during the last four years or so. It all started with business travels - I used to work with an IT firm, and soon I realised that love for traveling was something that was only waiting to be discovered in me. I have been lucky that opportunities to travel solo and with groups, have come my way and I was mentally prepared to take them up. Yes, whether you are travelling solo, with friends or with large groups, it does take a lot of preparation. Travelling solo, with friends and with large groups, has made me come to the understanding that travelling is after all, a highly effective method to know yourself.

With the number of group tour operators increasing by the day, offering customizable plans, deciding which group to choose itself becomes a challenge. However, when you know the purpose of your travel, you can narrow down your choices and select what suits you best. Having said that, however physically prepared you be, there will be certain aspects that you need to understand  before setting out. Traveling with a large group is preferred for a number of reasons. Especially with interest groups coming up specializing in a kind of tourism such as mountaineering, cultural, etc,  it has become more alluring because here as you travel, you get to meet people sharing similar tastes as yours. However, just like working with teams, travelling with a group does have some unwritten rules which, if you follow, you will be promising yourself a rich and fulfilling experience. Here are a few things you need to keep in mind when you are travelling with a large group.
Be sure of the documents required and maintain timelines :-
Many people prefer travelling with a large group as most of the "back-end" work – such as tour-planning, ticketing, and insurance are all done by a third party. But there's still a lot to be done by you. Please bear in mind that without documentation provided by you, these activities are not possible. So, to save yourself and the tour operator from last minute hassles, make sure that you submit all required documents, NOC's etc, well ahead of the last date.
Know and study your itinerary :-
The tour operator should be able to send you a clear and well-written itinerary by email. Ensure that you are aware of a "single point of contact" with whom you can connect up when you need. Take a good look at your itinerary, places listed, inclusions and exclusions. Do some research; look up on the internet; ask friends for more information about the places. All this will help you know what to expect, what could be your learnings and therefore build up the excitement in you.
Talk about your preferences and limitations :-
It is important that you inform the operator beforehand about your preferences or limitations, if any. That includes your meal choices, whether you are a senior or are travelling with a senior, are you travelling with a baby and any physical conditions that you feel you should inform the operator about (for example, those that restrict movement). This will alert the operator and help them make necessary arrangements wherever required. Check the accommodation options. Most operators provide accommodation on twin-sharing basis, so you must be either open to that or be willing to bear the charge for single accommodation. For those travelling with family and friends, this might not be an issue, however if you are the only one joining the group, then you will have to take this into consideration.
Be open to itinerary modification while on the trip and no-modifications :-
Yes I know this point comes as a surprise, but anything is possible, right? I recall during my visit to Thailand, soon after our visit to Wat Pho – the temple of reclining Buddha, it had started raining. The city was then preparing for the royal cremation of the King of Thailand. Roads were diverted and due to the heavy downpour, there was a huge traffic jam. We had to wait for quite a long time outside the temple, for the bus that was supposed to pick us up from the spot. The delay cost us our last spot for the day. We tried asking the tour guide if we could squeeze that in the next day's schedule. However, since we were supposed to take the return flight the next day afternoon, sensing that it would be too big a risk, hence we had to let that go. I remember two members took the chance, set out early the next morning and successfully made a trip to the spot we had missed, and also reached the airport on time. On the flip side, there might be a few places that you may want to visit, but those might not be included in the schedule. You need to either accept that, or bear the extra cost of exploring the places yourself if you wish to. It is advisable however, that instructions given by the tour operator should be strictly followed, especially when in a foreign land, you must be willing to go by the rules of the place and ensure the trip stays comfortable both for yourself and your group members. 
Meet up with your group members at least once before you begin your journey
Many tour operators hold a kick-off meeting, make sure you attend that. Most of the tour do's and don'ts are announced here.  Also this is a good chance for you to see and talk to the other members travelling with you before you actually begin the journey. It warms everyone up and is a great ice-breaking opportunity.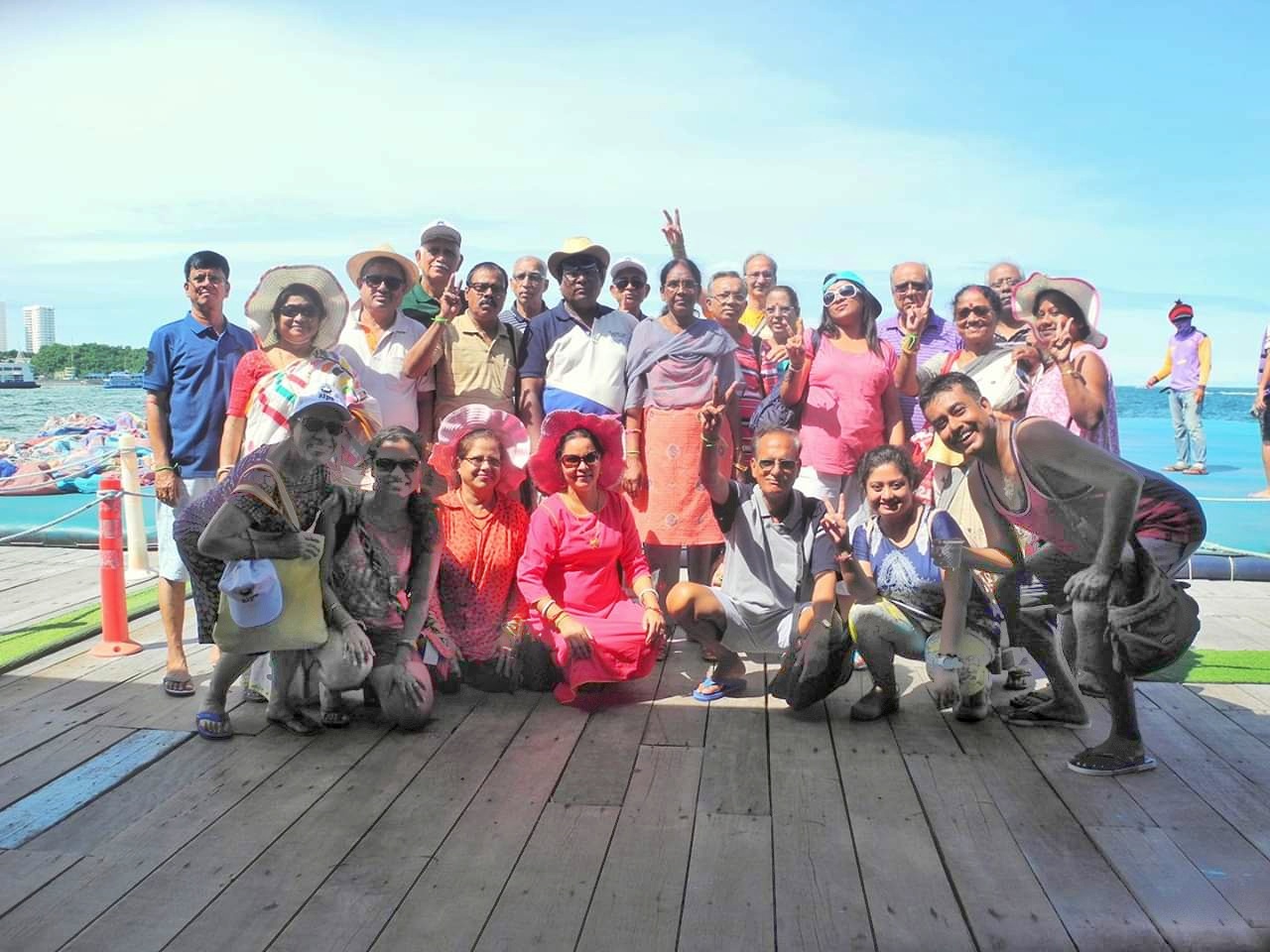 Make friends with the guide
Here's a bonus for you - my secret weapon. Being an explorer at heart and soul, my motive is to identify and understand moments, events and culture. Guides are storehouses of information. So who better than your tour-guide to tell you about offbeat places and activities? So, it is best to listen attentively and ask questions. You never know, guides could even help you gather information even beyond the scope of one particular trip!
Be flexible and open minded
It's amazing how as you travel, you learn and grow. I love to travel solo, but travelling with groups has strengthened the virtues of patience, wisdom and compassion in me. The topmost challenge of group travel is that where there are many people, there are going to be many opinions, and sometimes it will seem difficult to adjust with everyone. But you don't need to make it feel so hard. Stay relaxed, know what you are here for, your focus is on exploring places rather than getting into any confrontation. Your comfort level is important, so it is for others. Adopt an understanding attitude, respect personal boundaries and cultural etiquettes. That will ensure a pleasant experience for everyone in the group. After all, that's what travel is all about – an experience to remember and talk about for years to come.
My first group travel was with a gang of 7 sprightly women, to a place called Daringbadi in Odisha. Most of us knew each other for just a few days! We did not have a guide, but we did our research and planned the trip ourselves. It was a good time knowing each other and enjoy living in the moment. Our major sources of information were the hotel manager and the driver who took us around.  Read about my trip to Daringbadi here.
So, have fun, and try out travelling with a group if you haven't already. It's definitely worth a try.