Confidence. Calm. Poise. Words, that send through you a gush of inspiration, don't they? Even if mere words they are.
When Trisha and I had met for the first time, one afternoon somewhere in the hills of North East India, she had sounded wonderfully mysterious about her profession, telling me that she was an "observer". This story that I share today, gives me a hunch that perhaps, at some time, Trisha would have been working with some corporate company.
It was a day of celebration. International Women's Day. The office was all decked up with soft pinks and purples, blues and peaches – colours that showed up in balloons, streamers, lights! The workstations of lady employees were specially decorated with inspirational messages and words of gratitude written by colleagues, anonymously. Yes, it was different than the usual. Trisha wore one of her favourite purple handloom sarees.
She walked in her cubicle and looked around.
"You are an amazing human being", someone had written for her. Did the person actually know the depth of that statement? Or had he or she run short of words!!  She smiled. Another chit read – "Mesmerizing dancer!", while another – "Colleague turned friend"... Trisha herself, like the others, had written down a few chits for some people and put up the previous evening before leaving office, without them watching. The whole set-up was cute overall.
After sometime, her two deskmates arrived.
"Happy Women's Day!!!" Natasha nearly screamed, spreading her arms and even before Trisha realised, she gave her a hug. Trisha hugged back. "Happy Women's Day, Nuts! You look great!" That's what they used to call her. Nuts wore a dark pink shirt with a cute bow paired with white trousers. 
Shravan looked on, amused. When the excitement of the two women died down, he smiled shyly and wished both of them.
"Happy Women's Day to you too, Shravan", Trisha and Nuts chimed together. Shravan wore a light pink shirt and black trousers. His gelled hair shone in the lights.
Shravan looked puzzled. "Why are you girls wishing me?" He said.
Trisha and Nuts gave animated glances at each other. And then turned back at Shravan.
"Why? Aren't you celebrating the women in your life?" Nuts chipped in.
Shravan's face lit up. "Of course, Thanks!" He said in glee.
After sometime, Trisha went up to the washroom to freshen up. There she met Ruby, who was checking and reapplying her lipstick. She looked radiant in a full-sleeves light pink anarkali.
"That's a beautiful dress, Ruby! You look lovely!" Trisha remarked.
Ruby gave a wry smile, and said a crisp "Thanks", and continued. "But I wanted to wear a saree."
"So why didn't you wear it?"
"My arms are not waxed."
Trisha raised her eyebrows.
"So?"
"It doesn't look good. People talk. They notice."
"Did anyone come upto you ever and tell you that?"
"Not really... but it does not look good..."
Trisha gave out a sigh.
"Ruby, are you saying you wanted to wear a saree, but did not, because you thought people would talk?
Ruby shrugged, nodded, and continued applying the lipstick.
"Ruby," Trisha said softly. "So, would you yourself talk about someone who you notice hasn't waxed her arms?"
Ruby turned at Trisha.
"I would. Everyone should know how to look good".
Trisha folded her arms across her chest.
"Well then, how come you weren't able to wax your arms then?"
"I didn't have time yaar."
"You should make time then, since it is important to you.
"I know." Ruby looked a bit apologetic. She sighed and shut her purse.
"Can I ask you something?" Trisha said.
"Sure dear."
"I don't thread my eyebrows. What would you say about that?"
Ruby gave a comparatively longer gaze at Trisha.
She shrugged again. "Well, I didn't notice that. But you look fine. Perhaps you don't have time or maybe, it's your choice."
Trisha smiled. "Would you then judge me saying that I don't know how to look good?"
Ruby stiffened.
Trisha continued. "If you feel great about yourself, and can place yourself with belief to the world outside of you, how does it even matter if you thread your eyebrows or wax your arms? How does it matter what people think of you? They might actually think quite well of you, you know. And here you are, losing opportunities for yourself, just thinking about some story that is only an assumption cooked up by you."
Ruby's expression softened.
Trisha splashed some water on her face, it felt pleasantly cool. She then turned towards the door.
"Happy Women's Day, Ruby. See you around." She said, and stepped out.
 Towards the evening, the office was agog with celebration. There were impromptu performances, cake-cutting, gifting of roses, and a few games. Everyone gladly participated.
It was soon time to leave. Nuts had left early as she had to take her mother to the doctor, they had an appointment, while Shravan was in the adjoining cubicle, having a discussion with a team member. Trisha finished an article for the company monthly newsletter, sent it across and switched off her laptop. She picked up her bag. Someone knocked at her cubicle.
It was Prashant. In keeping with the essence of the day, he wore a dark violet shirt teamed with beige trousers.
"Hi, you leaving?" he said, smiling brightly.
Joy was Prashant's first nature. He was that "someone who spreads smiles wherever he went, he didn't even have to try to be impressive."
Trisha smiled back and nodded. Somehow she wasn't able to forget the washroom incident.
Prashant noticed something was amiss.
"You okay?" he asked.
Trisha stood up, pushed her chair back in place and said – "Yeah, am fine. Just thinking of how wrong some people can think."
Prashant looked at her and frowned.
"The Trisha! Thinking about what people think???! I don't believe this!" he said, mocking surprise.
This had Trisha laugh aloud.
Prashant looked intently at her.
"Keep smiling Trisha. Happy Women's day." He said.
"Thanks so much Prashant. Same to you."
Prashant turned to leave. He stopped for a moment, and turned back again.
"By the way Trisha..."he began. There was a mischievous twinkle in his eyes. "Thanks for being the amazing human being that you are." Flashing his trademark smile, he turned and walked away.
Trisha looked on, smiled, shaking her head, unable to understand the reason for this sudden statement. Then it dawned to her.
"You are an amazing human being", someone had written on a chit, for her.
The message! It was him! It was Prashant.
Trisha smiled to herself, picked her bag up, and walked away.
An inspiring story indeed! As I finished it, my thoughts went back to the day I met Trisha. Coming to think of it, I actually don't remember whether her eyebrows were in shape! I didn't even notice that. What I did notice and still remember, was Trisha – the girl, the human being. Confidence personified. True, so many of us spend so much of our valuable time judging people and ourselves, that too about things that do not even matter.
My fingers inadvertently reached out to check if there was any attachment in Trisha's email. There was! A picture of the rose Trisha had received that day during the celebrations at her office. The attachment was named – "For You." Thanks Trisha. I smiled.
"Happy Women's Day, Tiara", I said to myself.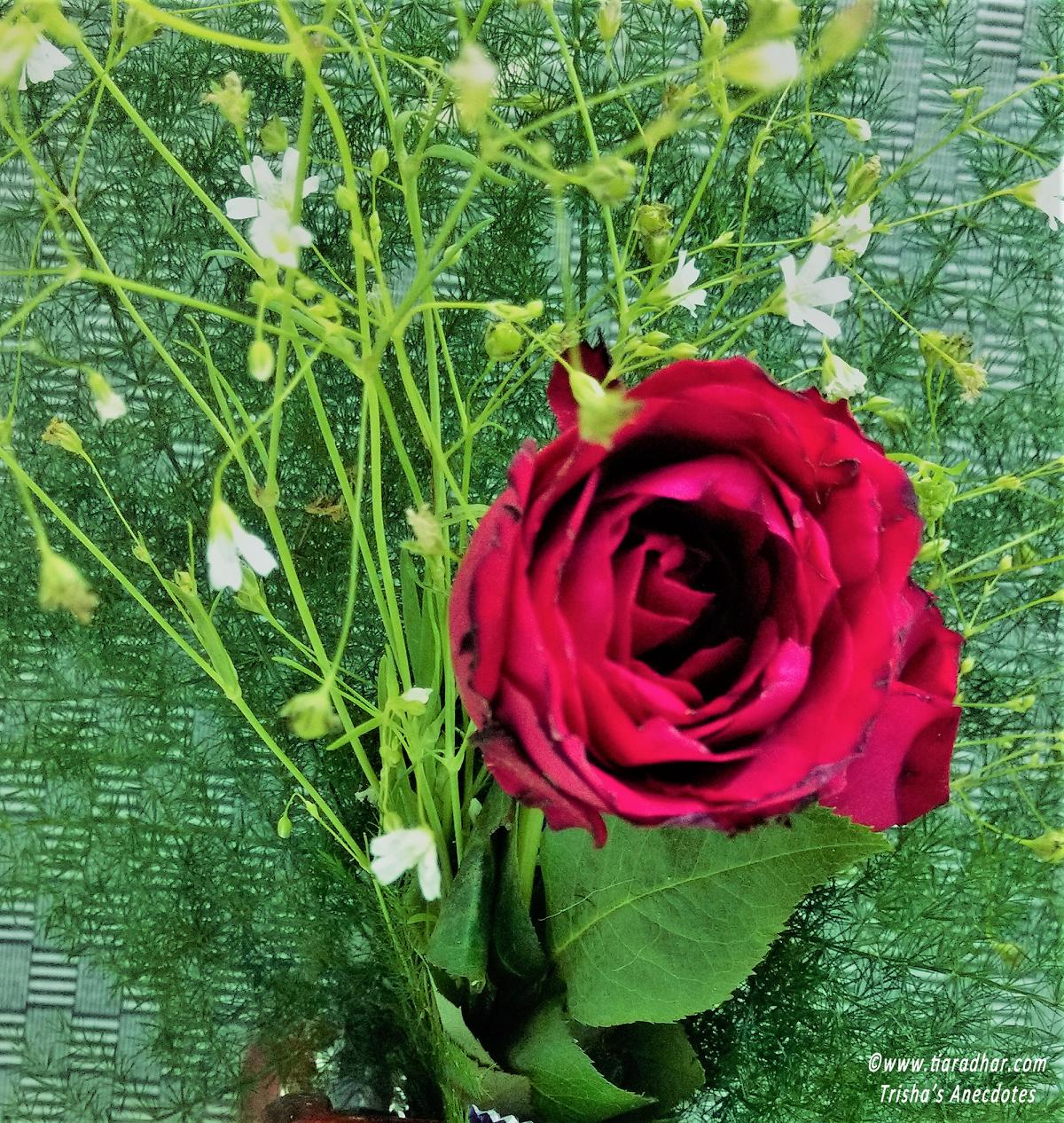 (This is a work of fiction, and is not intended to bear any resemblance with anyone in real life. Story and Image Copyrights are reserved by the author)
Do you wish you read how I met Trisha? Here is the first of the series.