Around two years ago, it was the same month - November, my birthday month. I was a few months into my habit of journaling, and there's an affirmation that I had written down- "I am aligned with my authentic self"... I had no idea where that came from. But it did. It flowed. And it resonated. That was the first time I truly felt alignment.
With the passage of time and my willingness to go deeper, I realized alignment is more of a practice - a learnable skill. My purpose of writing this blog is to help people have clarity as to what is alignment and what does being in alignment mean.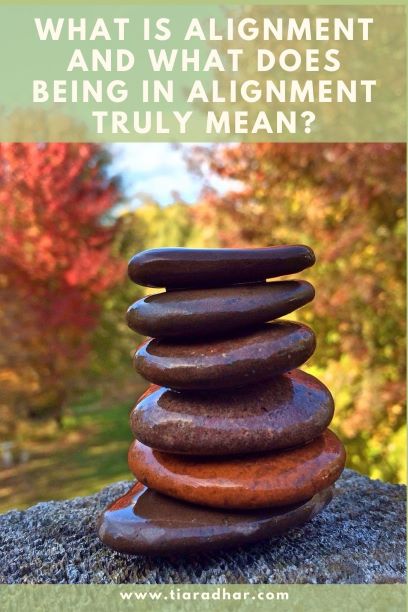 Well, let's say, if everything is perception, then perception forms individual realities, which in turn form perception again. Question is, are your perceptions serving you? How do they influence your actions? What impact do you have on others? What kind of reality are you believing in? Is there something that you feel, needs to change?

To extract mere perception out of Truth is the process of alignment. Truth is, and will always be. Anything that is unlike truth or love, can throw you off-balance. To peel off the layers of what doesn't serve you and your surroundings well, is what gets you closer to who you really are - your Alignment.
So how would you know you're out of alignment? Once you choose to stay in a state of balance, anything that feels off, is a signal to you. You start by believing that you're already in alignment. Your real job is to consciously keep removing all that does not match it, from moment to moment. The signs could be something physical say a strange churning in your gut, your chest might tighten, or you might experience a change in temperature. It could be emotional - say someone tells you something and you feel triggered and react. Or it could be mental, say - You tend to over think a decision, over analyse and feel stuck. Are you being authentic? Are you people-pleasing? Are you someone who envies other's success or happiness? Are you sabotaging your own success? Did you know that your disempowering thoughts and negative subconscious beliefs could manifest into chronic disease or ill-health in your physical body?

How can you stay in alignment? Staying connected to your spiritual self is what will help you become the one who's focused on balance. The one who knows that in the physical realm, it's natural to come across situations that could throw you off-track your physical, mental and emotional well-being. It takes work. But that's where true learning and growth lies. Here are some ways to practice alignment. Why do I call it practice? Because it's not a destination or a goal, it is a process in itself, which needs constant awareness and action from your part. Here are some of the ways you can experience more alignment in your life.
1) Learn to consciously move your body. Eat right. Eat well. But don't blindly follow diets or exercises that your friends or family are following. Study, seek help, do what works for your body.
2) Meditate. Pray. Reflect. Journal. Release. Read. Live in the moment. Environment is important. Consciously choose to spend more time around individuals / pursue activities that elevate you and less with what sucks the energies out of you. The mind needs food. Ensure that you give it the nourishment it needs.
3) Rest. Plan your naps. Sleep. Recharge. Give yourself the permission to rejuvenate yourself. 
4) Smile. Have fun. Choose to see the lighter side of life. 
5) Do what you Love. Remember, natural learning is where your love is. We all have our passions. They have been given to us for a reason. Pursue your interests. Focus on what you have. Find out what you can create. Set goals. Plan. Focus. Act. Celebrate your victories, little or large. Learn from your mistakes. Move on, move ahead. Feel your greatness yourself. And put it into practice into your daily life.
6) Watch your thoughts. Negative tendencies are within you, and so present is the power to transcend them. Time is precious, and so is energy. The energy of your thoughts must empower you and others in your life.  
7) Love yourself. I wanted to mention this separately even though it actually encompasses all the above six points. Self Love is the most crucial aspect of growth. And if you're doing it right, it begins with understanding and healing yourself wherever you need to and eventually progress to universal Love. Who knows, you might even end up discovering and living your greater purpose in Life!
Alignment is a choice. Just like the desire to learn. To grow. To flourish. To find your fulfilment in the way you're meant to as an individual. All it takes is understanding. Commitment. Practice. 


(Tiara Dhar is a Life Alignment Coach, who helps women live true to their Authentic self and achieve personal mastery. Through her blogs and videos - she's also a YouTuber - she spreads awareness about Holistic well-being, Happiness and Self-Love. For any questions and queries, feel free to write to lifecoachtiara@gmail.com)