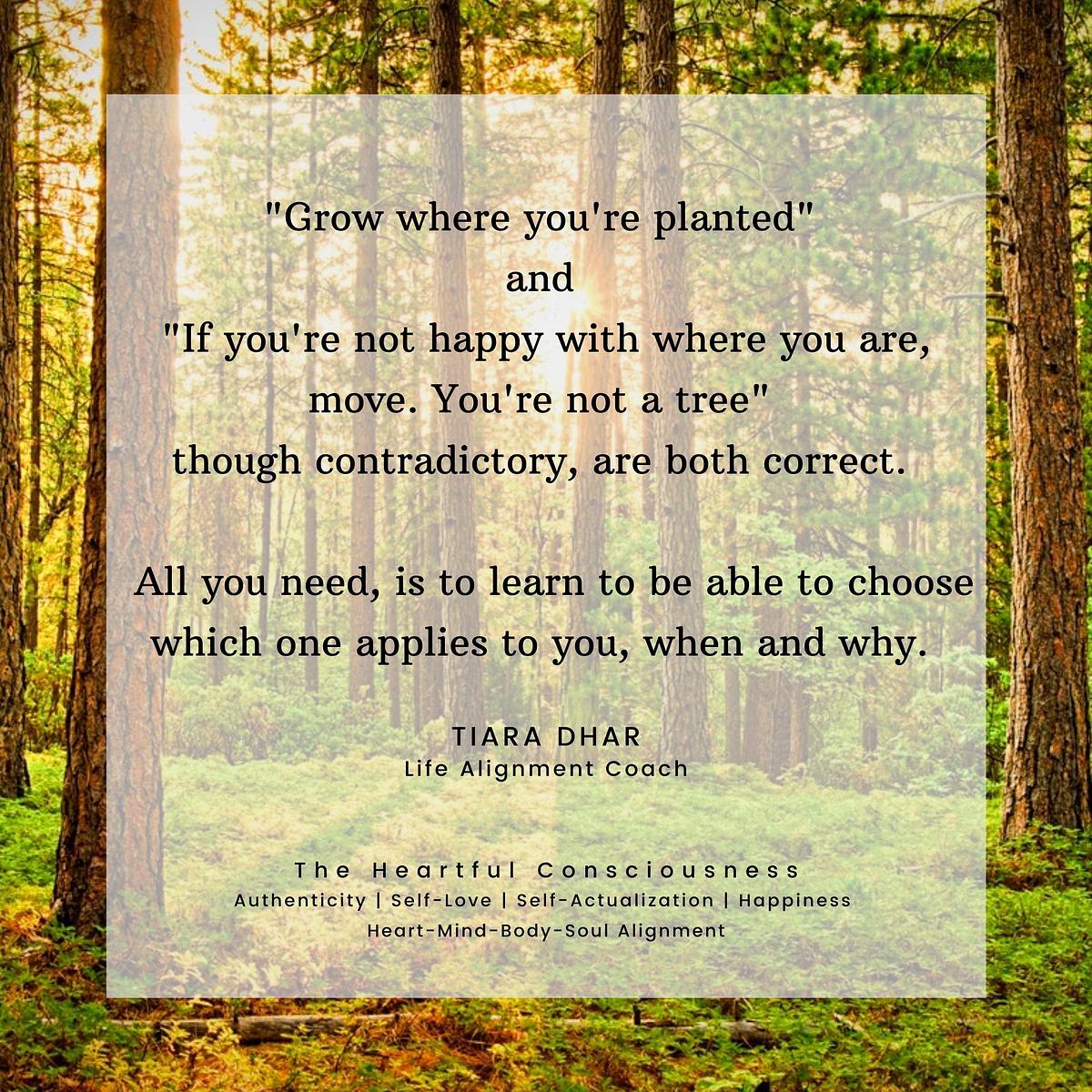 Ok, so I will put this up straight.
I have had both these above experiences. I worked with an IT major for 13 years and then moved on to take a chance to explore myself in a way that I, the human needed to, and felt called toward.

Was it an easy decision? No and Yes. In that order. Let me explain.

Most of us look for job stability, so did I. I come from an era (read, background) where stability matters to most. I was never consciously thinking about "growth". I always thought the growth would happen naturally, and so it did. Learning and growing on the job was happening as it would, technically. Deep down though, I was feeling highly unfulfilled. As if there was something more to me that I still didn't know. Many a time, I spoke about quitting my job with my family, but was always turned down, feeding my fears of becoming unstable without a job. It also led me to doubt my own self that "Was I overthinking?" Compromising on my wish to understand the reason of my anguish, was the only thing I could do. I recall occasions when my fingers shook even as I wanted to hit the submit button on the resignation page, resulting in my closing the page in exasperation.  
Then in mid 2018, something changed. I was into yoga and meditation for quite sometime then, and one evening, I experienced what I later realized was the onset of a spiritual awakening (more on that some other time). I was on a business tour then. I remember hitting the "Submit" button like I was the calmest being ever! It just came to me naturally, as if something told me the time was right. Miraculously, my family supported my decision this time. The Universe opened up for me thereafter with opportunities for all that was needed for me the human to start growing holistically. As I chose to embrace transformation, my perspective of my past, present and future started getting clearer. I started healing and coming to a place of being at peace with myself.

So well, you may say not everyone goes through spiritual awakenings (though there is always a possibility). However it is possible to practice conscious awareness about yourself and your surroundings in order to stay in alignment with what you need for your soul growth. Point is, I would have anyways continued to "grow" in my job like I was, hadn't I chosen to follow the nudge of my intuition. Question was - Was I willing to grow in that way? Would that have fulfilled me? Or did I want to follow my true desires, which is actually the path of true growth. At the end of the day, that's what we're all here for - to grow how our soul wants us to experience growth. It is only a question about whether you are willing to co-create with the Universe or not. It is always you who has to take the first step for the Universe to respond.

Today, I have immense gratitude for those 13 years in my job life. That experience has served its purpose in my life as the foundation of understanding what my True Self was really calling me toward - becoming the best version of myself.
Self reflection is key. If you feel stuck in any area of your life, it is an opportunity for you to change the way you look at it and transform yourself to create/attract the change your soul desires. We all have our individual journeys. Our triumphs lie in how efficiently we interpret the milestones along the way, and how strongly we can read and trust the GPS of our soul.
Journaling and meditation have helped me in my journey of unfolding, evolving, and making choices that are right for me. Reach out to me if you wish to know more about these.

It will take work, but it's all worth it.

(Tiara Dhar is a Life Alignment Coach, Meditation Teacher, Therapeutic Art Coach, based out of Kolkata, India. She specializes in Self-Love, Authenticity, Self-Actualization and Positive Psychology). Reach out to her at lifecoachtiara@gmail.com if you are committed to understand certain missing links in your life, and move forward with faith and confidence).