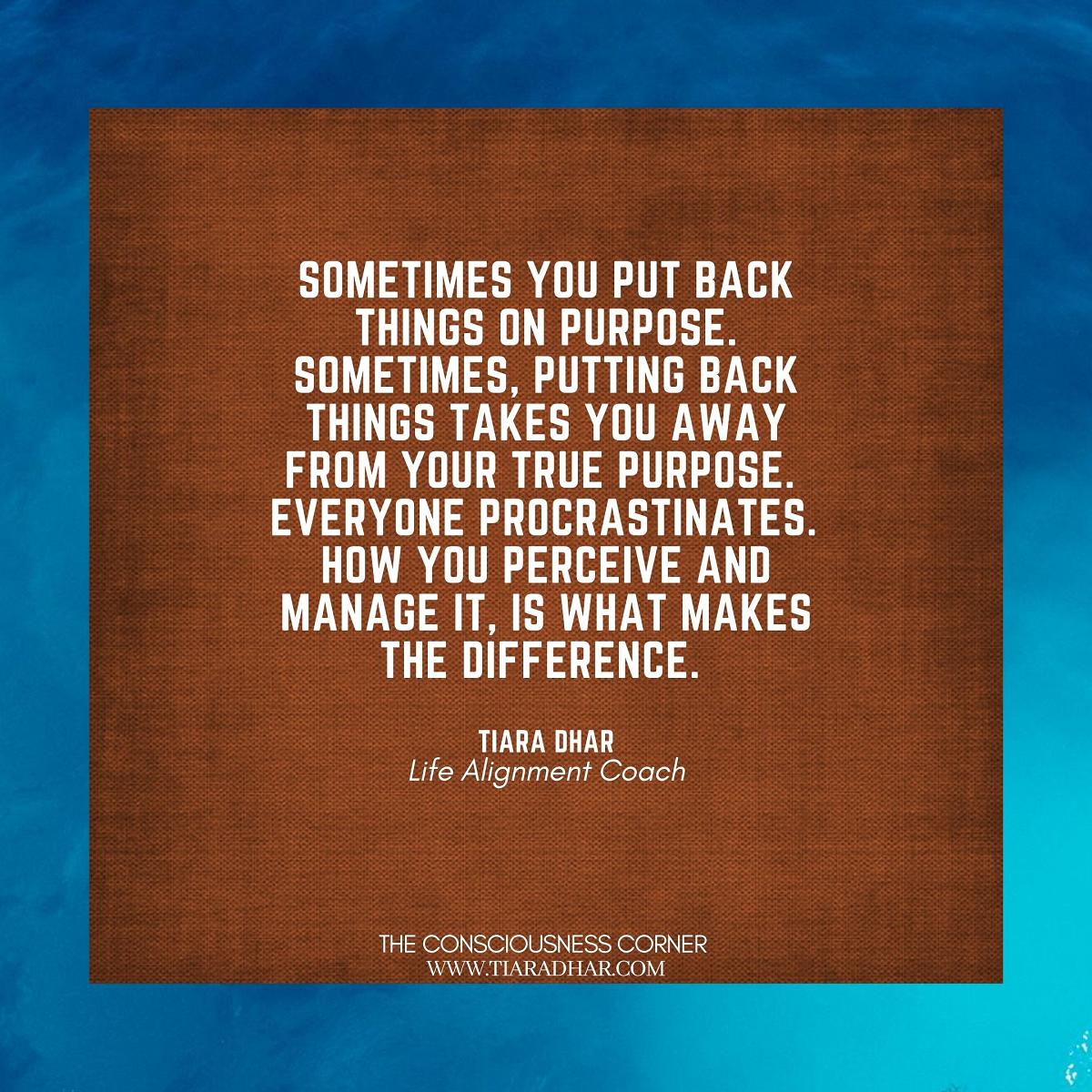 So, your goals are set. Now what? Time for action. But what happens? Enter the P-word. Yes, you got that right. Procrastination.
A phone conversation with a coach friend one rainy afternoon prompted me to think of that thing called accountability. Fancy word, huh? Sounds quite forceful. A buzz word for success. We were both discussing our next action steps and promised each other to stay personally accountable for our priorities. Being a typically self-aware person, it's a big deal for me to stay on-track while pursuing my goals. But that doesn't mean I've never fallen prey to procrastination. For years, I had been putting back taking the first step towards my dreams. When I woke up to realize who I truly was, only then did I assume full responsibility for becoming the most authentic version of who I was meant to be. So, if it is that important, why isn't everyone working hard to stay accountable? Where does procrastination come from? And is it all that "bad"? What I have observed and learned is that procrastination is of two types – the one where you are aware of it, and the other you are not. Let's first talk about the situations where you are not aware that your behavior is tending to procrastination.
If your goals are not truly yours – No wonder you're not emotionally drawn towards them, hence you don't wake up feeling all excited about your day. You do your tasks but feel unfulfilled. Ask yourself, why is this goal important to me? Is this in alignment with who I am? Are these influenced by other people around me? When you realize that emotions attached to a goal are directly proportional to the effort you'll exert to achieve it, you'll stop allowing external factors to influence you. At one time, I was a procrastinator of this kind. To be honest, I wasn't even making my own goals, I was just following the "norm", just like many around me were doing. When I started questioning the "usual", I realized I was investing time and effort into the things that were not right for me the person. So, know your "why" and the "what" will follow.
If you are not ready with your big picture – Clarity is key. Effective goal setting and action necessitate having a clear vision statement about your life. Yes, you heard that right. Vision statements are not just for organizations – You ARE the organization yourself for that matter. Think about it – You are a one-stop manufacturer of your whole life – the choice-maker, the investor of internal and external resources, the one who gets to experience the results of your own choices. You are the total of your physical, emotional, mental, and spiritual aspects of yourself. That makes you an entire organizational system, doesn't it? Make a vision statement for your organization called life. Clarify your "What" and the "How" will follow.
Now let's talk about conscious procrastination, where you deliberately postpone things.
If you're still in the planning mode – And that's one part of procrastination that I think is good for you. I call it the phase of pseudo-procrastination. I even make sure that I include this phase into my plans itself!!! In this phase, you would be looking around yourself for inspiration, insights, aha moments. The vision is clear, the road map isn't. This is where your intuition comes in. Meditate. Pray. Brainstorm. Visualize. Journal. Allow your subconscious mind to guide you to the actions that are right for you. You may just come across the right people and opportunities at the right time in this phase. You open yourself up to possibilities. You become a conscious risk-taker. This phase is important because this is what takes your attachment away from the outcome, and prepares you for enjoying the journey itself. You become comfortable with not knowing it all. It also helps your monkey mind stay away from the need to compare and compete with others and follow your own heart instead. This phase gets you the "How", and now you're ready to set your "By when".
If you're too overwhelmed to start/continue/finish – It is extremely likely that once you have your creative energies opened up to possibilities, you will attract opportunities for action. Opening yourself up to possibilities is great, but you have it in your hands to decide which options you want to go for first. Also, remember while you can do anything, you actually need not do everything. Every opportunity may not be "the" opportunity for you. You may also need to consciously put back some activities to give preference to something else. Where and when you want to invest your time, effort, energy and resources is yours to decide. This is where you get to play the role of the conscious creator. Prioritize yourself. Prioritize your life. Also, build a mindset for growth and change. Let me remind you that the habitual part of your mind doesn't like changes. No wonder, feeling overwhelmed sometimes becomes an excuse for not taking action on the truly important aspects. Once you work around this, you'll see yourself flowing easily through your activities and your life.
So well, there's no need to beat yourself up or resign to the "I can never change" attitude. Rather, understand that procrastination is very much part of your growth. If you make the effort to learn about yourself, you would find the true reason why you consciously or unconsciously choose to put back certain things. The best strategy is to befriend procrastination. Allow it to partner with you as you take your power back, work for your dreams, and become the true leader of your own life.
How do you relate to procrastination? Has it ever held you back from chasing your dreams? How do you manage procrastination. Let me know in comments.
(Tiara Dhar is a Life Coach, who specializes in helping people live in alignment with their authentic selves. If you are interested in taking your life to the next level through personal transformation, write to her at lifecoachtiara@gmail.com requesting for a strategy session. To read more about her, click here).